Policy brief calls for inclusion of urban refugees in social protection in East Africa
A participant at the IGAD conference on the Kampala Declaration in Nairobi where the Re:Build program launched its policy brief calling for inclusion of urban refugees in social protection measures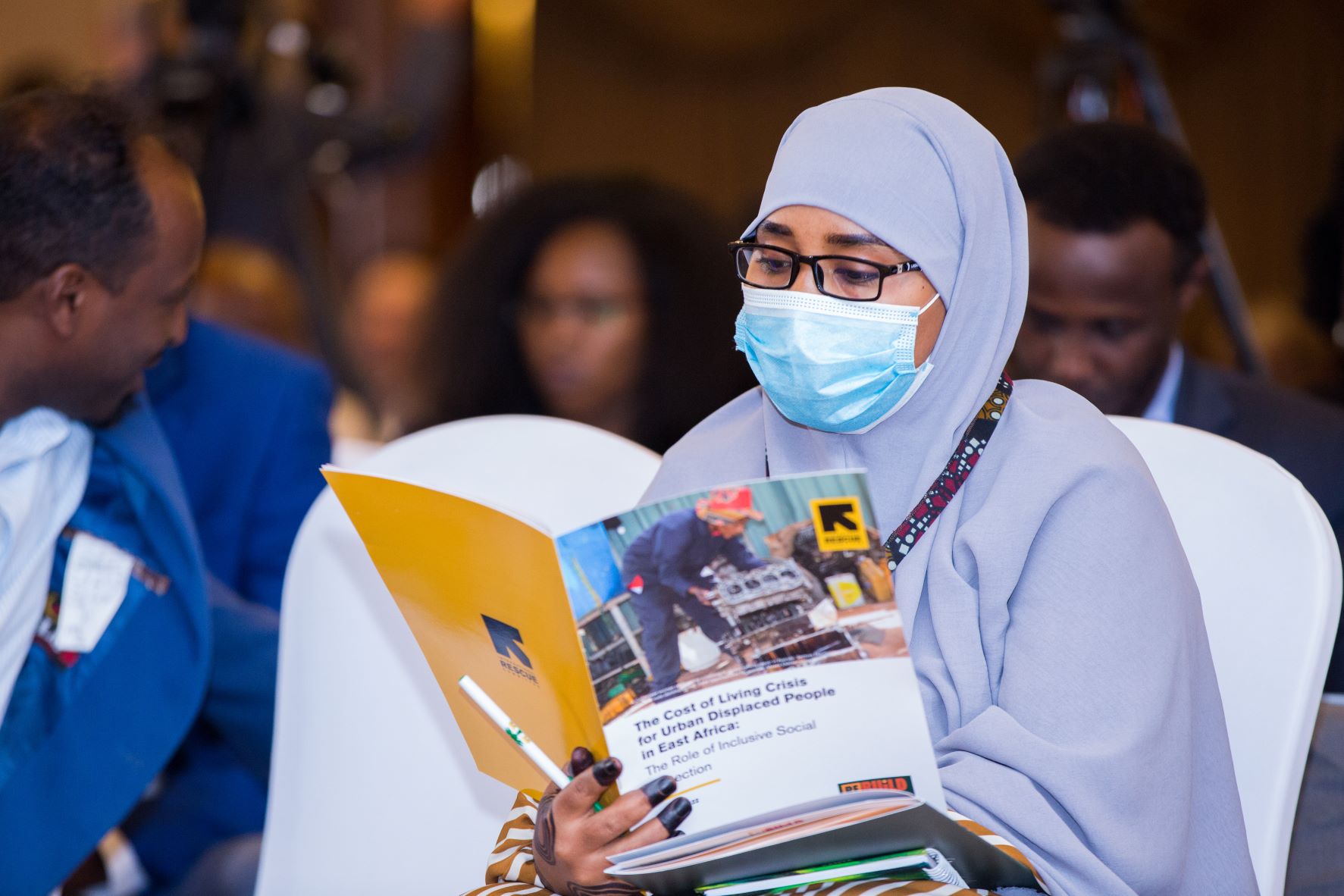 A new policy brief has sounded the alarm on the negative impact of the cost of living crisis on displaced communities in major urban areas in East Africa and called for inclusion of urban refugees in social protection measures.
The brief ''The Cost of Living Crisis for Urban Displaced People in East Africa: The Role of Inclusive Social Protection" details ways in which already-vulnerable communities in urban areas are being pushed over the brink by the surge in the cost of essential commodities.
Produced by the Refugees in East Africa: Boosting Urban Innovations for Livelihoods Development (Re:Build) program, the report calls on humanitarian agencies, governments, and donors to rapidly increase funding for inclusion of the urban displaced in humanitarian and social protection.
''Donors and hosts governments should provide humanitarian assistance and national social protection on the basis of a human right without discrimination based on refugee status and location,'' reads part of the recommendations of the brief released on Tuesday 25 October during the second day of the Intergovernmental Authority on Development (IGAD) conference on the Kampala Declaration in Nairobi, Kenya. The conference brought together participants from seven countries of the IGAD region.
The policy brief was informed by interviews with clients and supported with data from the Re:Build program which is implemented in Kampala and Nairobi.
Under the status quo, most measures in Uganda and Kenya meant to ease cost of living burdens fail to reach non-citizens and other marginalized communities.
"As policymakers and other key stakeholders respond to the surging cost of living around the world, it is crucial that they ensure displaced communities are not left behind," said Priscilla Dembetembe, Project Director for the Re:Build. "The global cost of living crisis is widely felt but displaced people living in cities are particularly hard-hit. We are calling for strengthening of policies to be more inclusive and ensure that entire societies recover from this crisis."
Re:Build is a partnership between the IRC and the IKEA Foundation focused on supporting 20,000 urban refugees and their host communities in Nairobi and Kampala. In the last one year and eight months, the program has reached a total of 6,821 clients including refugees and nationals in Kampala and Nairobi offering various services including but not limited to placements in vocational institutes, digital skills training, language training, apprenticeship placements, green energy training and mentorship. The services are meant to equip clients with livelihood skills critical for self-reliance in the urban.